The History of Cullinan Funeral Directors
Cullinan's first began business in Ennistymon Co. Clare at the turn of the last century
Denis Cullinan(2nd) son of Denis Cullinan(1st) from Kilnamona came to Ennistymon to set up a coachbuilders and general smith works together with Pat Mullins a blacksmith (father in law of Phil Mullins, Larry's Road). The premises was situated at the corner of Monastery Lane & Larry's Road where Cullinan's builders providers, timber & hardware merchants remain in business to this day.
On 24th April 1911 Denis Cullinan(2nd) married Mary Clair a dressmaker who resided at Church Street. Her sister Bridget Clair (both originally from Callura outside Ennistymon) also a dressmaker had married Edward Roche on the 14th of February 1904.
Both the Roche & Cullinan families lived in adjoining houses on Church Street. Roche's having a little shop & Mary Cullinan continuing with dressmaking.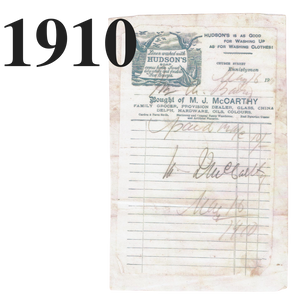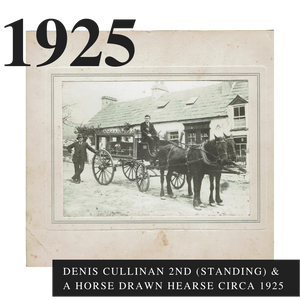 Shortly after getting married Denis Cullinan(2nd) decided to go into business on his own & set up a funeral undertaking service while continuing with the coachbuilders & general smith works at Monastery Lane.
Denis & Mary had five children
John(Jack) 1912-1968;
Michael(Mickey) 1914-1993;
Patrick 1916-1939;
Denis(3rd)Dinny 1920-1993; &
Mary(Baby) Byrt 1923-1991.
When of age Jack, Mickey, & Dinny joined their father in the business & spread their time working between the undertaking & coachbuilding/smith works. Their brother Patrick went on to study architecture in Bolton Street Dublin but unfortunately contracted TB & died at the young age of 23 years. Their sister Baby married George Byrt & they lived in New Road where Baby ran a small grocery shop and George had a taxi business and was also a very well known traditional musician.
Some interesting facts about Cullinan's are that as coachbuilders they built their own horse drawn hearses & motor hearses & continued to do so until they built their last motor hearse a Zepher Ford registration DT1569 in the 1960's.
In the early to mid 1900's they also built many horse drawn carts, traps, side carts & jaunting carts. The last jaunting cart Mickey Cullinan built was in the early 1970's & shipped from Dublin port to Vermont USA a special order for a high court judge & his family.
 As times changed in the 2nd half of the last century horse drawn carts etc became almost obsolete so  Cullinan's adapted to these changes & began to build bodies on trucks for local hauliers & north Clare creameries who were big employers in Ennistymon at the time.
Receipts from 1938, 1939, 1941
By the mid 1950's it was evident that the coachbuilding & smith works trades were in decline so Mickey Cullinan decided to buy Paddy O'Mahony's timber yard & hardware where Cullinan's continue that business to this day.
In 1960 Mickey Cullinan married Margaret (Peggy) Nagle originally from Kinnielty, Liscannor & they had one son Denis(4th) Denny. Around this time Mickey's brother Dinny married a nurse Eileen McInerney & they bought a pub in Church Street. They had 3 children Paddy, Marie & John. John & his family continue to run Cullinan's Bar to this day.      
Mickey Cullinan along with his great friend Jimmy Stack of Stack's pub on the corner of Parliament Street & Main Street built up the builder's providers business while Peggy Cullinan helped with the bookwork & got more involved in the funeral undertaking side.
In the early 1970's Mickey & Peggy bought McCarthy's shop at the corner of Church Street & Monastery Lane & developed it into county Clare's first purpose built funeral home in fact it was one of the first funeral homes in Munster & Ireland at the time.
On finishing his leaving cert in the local CBS in 1977 Denny Cullinan son of Mickey & Peggy joined his parents in the running of the builder's providers & funeral business & took over on their deaths in the early 1990's. Denny married Angela (McNamara) from Tullygarvan, Lahinch in 1983 & they have 3 children Michael, Sean & Roisin. Sean now runs the builders providers side of the business while his sister Roisin looks after accounts & office administration. Michael works with an event management company in Dublin.
In 2017 Cullinan's carried out a major refurbishment of their funeral home to bring it up to modern day standards & is now regarded as one of the best of it's kind with all facilities under one roof.  Also in 2017 Justin Nestor, son of Paddy Nestor who also works for Cullinan's joined the firm. Justin who trained with David McGowan Funeral Directors in Sligo and with funeral firms in the UK & Australia is a highly qualified funeral director & embalmer & is now very much involved in the day to day running of Cullinan Funeral Directors.